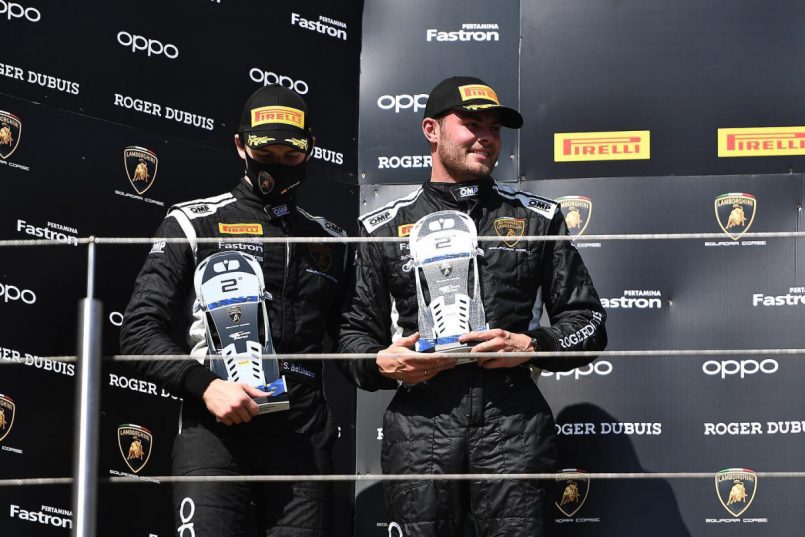 06 Sep

Lamborghini Super Trofeo podium success for Morris at Nurburgring
Seb Morris on podium in first event back in Super Trofeo since 2017 
Welshman and team-mate Sebastian Balthasar P2 in race two
Leipert Motorsport duo fraction away from richly deserved victory
Leipert Motorsport's Seb Morris celebrated deserved podium success at the Nurburgring in Germany on Sunday, 5th September, during his first appearance in the Lamborghini Super Trofeo Europe since 2017 – taking a hard-earned second place finish in race two of the weekend.
Teaming with namesake Sebastian Balthasar for the first time, having been drafted in to partner the German for the final couple of events of the Super Trofeo season and end-of-year World Final, the duo looked set for victory in Sunday's contest but ultimately had to settle for the runner-up spot.
During race one on Saturday, 4th September, 25-year-old Welshman Morris and Balthasar raced to sixth place and the duo now look forward to the championship finale at Italy's Misano World Circuit Marco Simoncelli at the end of October.
"I really did enjoy myself at the Nurburgring", said Chester-based Morris, "It was actually far tougher in Lamborghini Super Trofeo than I expected, the level of competition is very high and the car is very different to the GT3 Lamborghini – the Super Trofeo car has a much smaller window of performance with the tyre, if you push it just a bit too hard you lose four tenths just like that.
"By the second race I'd adapted to that and while I was really annoyed when I got out of the car to have lost the chance of the win, after I reviewed my pace and the data afterwards I was happy with the level of performance. With no testing, I rocked up at the track not knowing this car and I think we come away with our heads held high – the team did a great job. I can't wait for Misano now."
After finishing sixth in race one on Saturday afternoon, having started the contest sixth as well, race two on Sunday was the weekend highlight for the Leipert Motorsport duo. Balthasar started from pole position and led away, opening a lead of just over two seconds by lap four and increasing his advantage to three seconds by lap 10. He eventually pitted on lap 14 to hand over the car to Morris.
Emerging onto track still in the lead of the race, with 20 minutes of action to go, the former British GT Champion was 1.8 seconds ahead into lap 16 with second placed Leonardo Pulcini already up to speed, as the No.11 car had stopped sooner. Badly baulked by a backmarker at Turn One on lap 19 and again through Turn Two, the delay cost Morris dear but he remained in control at the front.
Similarly, on lap 22, another delay in traffic at the 'Schumacher S' enabled Morris' pursuers to get within touching distance. Working very hard to hold onto the lead, on the 24th and final tour Loris Spinelli – who had passed Pulcini two laps prior – managed to sneak past at the first corner. Fending off Pulcini to the flag, second place was still a fantastic result.
"There's no shame in losing out to Spinelli in only my second race, he's a Lamborghini Super Trofeo specialist and has been doing this for about five years – and his move was a good one", reflected Morris, "Without any testing, jumping in and taking a second place, I'm happy with that. I know much more about the car and the tyre management now, which stands us in good stead for Misano."

Next on the 2021 schedule is the Lamborghini Super Trofeo Europe finale at Italy's Misano World Circuit Marco Simoncelli on Thursday, 28th October, and Friday, 29th October. Morris will then remain at Misano to race in the blue riband end-of-year Lamborghini Super Trofeo 'World Final' on Saturday, 30th October, and Sunday, 31st October.