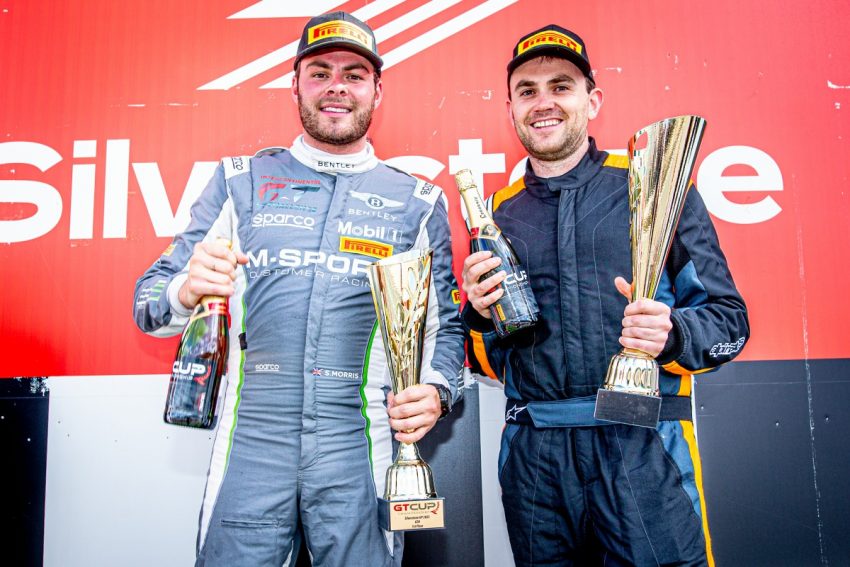 31 Jul

STAR GT CUP RETURN FOR MORRIS AND DAWSON WITH VICTORY AND TRIPLE PODIUM
Deserved GT Cup win for Seb Morris and Charles Dawson at Silverstone
Podium hat-trick for RAM Racing team-mates at home of British GP
Dawson impresses on first outing since recovering from broken back
Welsh sportsman Seb Morris secured an excellent race victory as part of an impressive podium hat-trick in the GT Cup Championship at Silverstone Grand Prix Circuit over the weekend, 29th/30th July, to mark a superb return to action for the Pro driver and team-mate Charles Dawson.
Having been on the racing sidelines for more than three months, recovering from a broken back, Dawson starred and Chester-based Morris expertly hit the ground running himself having not raced since the Brands Hatch event at the end of April, where he teamed with Gustavo Xavier.
Dawson was electrifying in Saturday morning's qualifying session, storming to the GTH pole position by a full second with a time of 2m10.560 seconds (100.93mph), and he went on to secure second place in the round 15 Sprint Race a mere 0.8 seconds shy of the win.
Starting on pole for the round 16 Pit-Stop Race later in the afternoon, Morris and Dawson combined to deliver a fantastic victory in the No.42 Mercedes AMG GT4 – the second win in only three race weekends in GT Cup for Catalyst Interiors and WS Transportation backed Morris – comfortably clear of their nearest challengers.
While blustery all weekend, the weather on Sunday certainly took a turn for the worse as the day wore on. Morning qualifying was dry again and the RAM Racing team-mates achieved another front row with the second fastest time. Rain arrived for the round 17 Sprint and the No.42 took fourth.
For the round 18 Pit-Stop Race the GP track was fully wet and conditions challenging, Morris and Dawson starting third in GTH and adding another podium to their tally with a top three finish – just 0.7 seconds away from the runner-up spot at the chequered flag.
Seb Morris:
"It's not been a bad weekend at all! It was a long old week actually during the build-up, we did a sim day all day on Wednesday, Thursday and Friday we did two full tests and Charles was straight back into it having recovered from his broken back. We had a really good routine, working through data and video, and I always try to simplify what's needed and focus on the two or three key points where improvements can be made.
"Obviously the results came and I don't think anyone worked harder than we did throughout the weekend. I was really happy with the car and my pace, I've been racing long enough to be able to have a long lay-off but be able to jump straight back in and be quick. We're still using this year to continue testing and developing, assessing for next year."
Catch-up on all of the weekend's race action from Silverstone GP Circuit on the GT Cup YouTube channel HERE