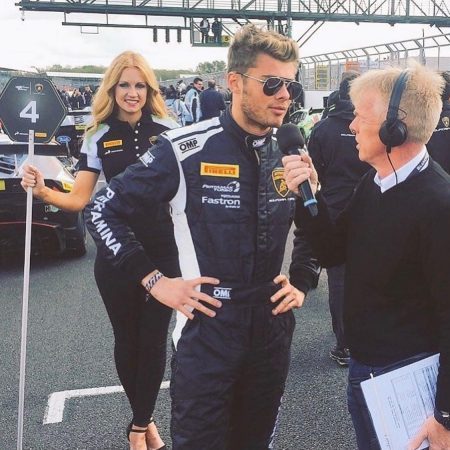 19 May

Morris seals three-event 24H series deal with Lamborghini squad Leipert Motorsport
 Seb Morris to debut in 24H Series with Lamborghini team Leipert
First race of three-event deal this weekend at Hockenheimring
Former 'Bentley Boy' relishing Lamborghini Huracan opportunity 
Professional racer to also contest Portimao and Sebring 24hrs
Seb Morris will make his debut in the prestigious 24H Series at Germany's Hockenheimring this coming weekend, 22nd/23rd May, after agreeing a deal with top team Leipert Motorsport to be the Pro driver in the squad's Lamborghini Huracan GT3 entry.
Forming part of a fantastic three-event 24H Series deal the Chester 25-year-old has struck with the German team, the Hankook 12H Hockenheimring will be Morris' second race outing of 2021 and he cannot wait to be back on track.
While most well-known, of course, for his hugely successful tenure with British manufacturer Bentley – with whom the Welshman won the British GT Championship in 2017 and went on to race as a factory driver in 2019 and 2020 – Morris does have past experience of Lamborghini power.
Drafted in as a late stand-in for Leipert at Silverstone in 2017, driving the team's Lamborghini Super Trofeo Europe entry, later that year he delivered a peerless showing on his maiden outing in the International GT Open at Monza in Italy by taking victory on his debut in a Lamborghini Gallardo.
This weekend at Hockenheim, Greenlight Sports Management racer Morris will team-up in Leipert's No.10 Lamborghini Huracan GT3 EVO with Australia's Brendon Leitch, American driver Tyler Cooke and German racer Fidel Leib.
"I'm absolutely delighted to have agreed this deal with Leipert Motorsport, it's a fantastic team with a very successful track record over the years in numerous endurance championships", commented Morris, "Racing in GT World Challenge Europe over the last few years, and British GT before that, I've obviously seen first-hand just how competitive a package the Lamborghini Huracan is.
"I'm really looking forward to getting behind the wheel on Friday at Hockenheim, and working closely with the engineers in my role as the Pro, to deliver a great car and hopefully challenge for a big result. This will actually be my first time back at Hockenheim since 2014 when I raced in Formula Renault, so it's going to be great to be going back there after so long."
In addition to the Hankook 12H Hockenheimring, the deal Morris has agreed with Leipert also includes two huge twice-round-the-clock encounters – the Hankook 24H Portimao in mid-July in Portugal and the Hankook 24H Sebring in the USA in November.
Hockenheim will be Morris' second race outing so far of 2021, his first coming at the fearsome Nurburgring-Nordschleife last month. Called-up to the Walkenhorst Motorsport squad for the first round of the Nurburgring Endurance Series, he produced a sensational performance and certainly confirmed his adaptability and professionalism with second place in class in the team's BMW M2.
His first track time this weekend will come on Friday, 21st May, during free practice with qualifying set to follow on Saturday, 22nd May, at 08.35 UK time.
The race itself will be split into two parts, the first – over a duration of six and a half hours – beginning at 12.30 UK time on Saturday, followed by the remaining five and a half hours from 13.30 UK time on Sunday, 23rd May.
Live coverage of qualifying and all of the Hankook 12H Hockenheimring race action will be streamed online at YouTube HERE with live timing also available HERE