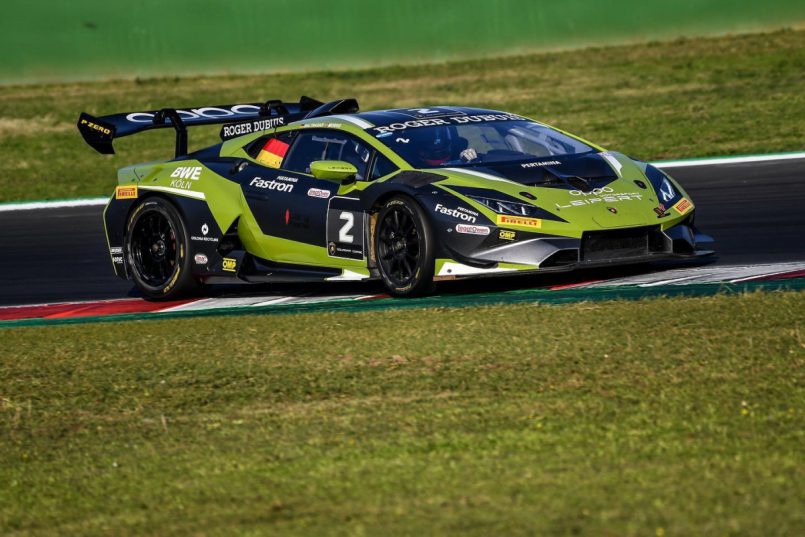 01 Nov

Morris and Balthasar eight overall in Lamborghini Super Trofeo world finals at Misano
Seb Morris and Sebastian Balthasar P8 in 'World Finals' standings 
Leipert Motorsport duo take best World Finals race result of P6
Pro P3 best in preceding Lamborghini Super Trofeo Europe races 
Morris helps squad make big strides on first ever visit to Misano
Seb Morris declared himself 'very happy' with his performance after concluding the Lamborghini Super Trofeo World Finals in Italy on Sunday, 31st October, eighth in the standings following a busy week of action at Misano World Circuit Marco Simoncelli – his maiden visit to the track.
Beginning with the last two races of the Super Trofeo Europe season on Friday, 29th October, the Welshman and team-mate Sebastian Balthasar took third in Pro, fourth overall, in the opener before a potential outright podium in the evening's race went begging after last lap contact for Balthasar.
Leipert Motorsport's mechanics repaired the No.2 Lamborghini Huracan overnight in readiness for the start of the World Finals on Saturday, 30th October, where a strong second stint from Morris in race one – under night skies – secured a top six finish. In race two on Sunday, they finished eighth.
Embarking on a packed week of action, Morris' first ever laps of Misano came on Tuesday, 26th October, ahead of two more days of practice – much of which was impacted by a series of red flag stoppages. Even so, the Chester driver helped Leipert make big steps forward with the set-up and performance of the car and, in the end, he was satisfied with the weekend's racing.
"All in all, it's been a good week and I'm very happy with my overall performance, I was the quickest driver in the team and that's pretty much the most you can aim for", said the Liberty Properties ambassador, "It's been a busy week, with lots going on, and we moved forward impressively after being, unexpectedly, quite a way off at the start of testing. We were a couple of seconds off.
"I worked hard with the team to get the car up to pace and I was happy to get my times down to a lap in the 1m33 second bracket for the World Finals qualifying. That put us P6 and only a tenth and a half from the front row. I made some good moves in the races and I especially enjoyed the night race, I was fastest on track over the last few laps which showed the improvements we made."
He added: "In the European races we should have had two podiums, we took P3 in Pro in the first one which was great as we did struggle in qualifying. In the second one, Sebastian unfortunately had a crash on the last lap – it was a move he felt he had to take to try and improve his position in the championship. Misano has been good, I've enjoyed it, so thanks to the Leipert guys for their work."
Balthasar started Super Trofeo Europe race one on Friday from eighth and moved into seventh on lap one, sixth in Pro, where he stayed to the pit-stops. When Morris took over he caught the top six and gained two places in quick succession. After passing Raul Guzman's hobbled car late on for fourth, third in Pro, Morris closed to within just 1.5 seconds of the overall podium.
The Greenlight Sports Management driver started race two from ninth and moved into eighth through the first sequence of corners. Grabbing seventh on lap two, he quickly closed on Kikko Galbiati and pressured lap after lap before climbing into third as several rivals served pit-stops.
Balthasar was sixth after taking over from Morris and, following a Safety Car period, racing resumed with only nine minutes left. Able to benefit from a couple of incidents ahead, he moved into fourth but an ambitious last lap bid for third went awry – damage leading to a 17th place finish.
All attention then turned to the start of the World Finals on Saturday, where drivers and teams from Lamborghini Super Trofeo North America joined their European counterparts. Race one started at 18.50 local time, under night skies, and from eighth on the grid Balthasar took seventh but was then edged back to ninth before the mid-race driver changes.
Morris had a big task on his hands, but the former British GT Champion more than rose to the challenge. Running in ninth when the order settled, he closed a four second gap to the cars ahead and with three minutes to go he grabbed eighth. Lapping superbly, quickest on track, the Leipert racer took seventh on the last lap and ended the race sixth due to a penalty for Dario Capitanio.
Qualifying a strong sixth for World Finals race two, less than 0.2 seconds shy of the front row, a rapid launch for Morris didn't work out when he was crowded out at Turn One. Shuffled back to 11th place, any chance to swiftly hit back was taken away when the Safety Car was deployed for lap two.
Racing resumed with around 38 minutes left and Morris quickly took 10th place, fortunate as well to miss being caught-up in a multi-car tangle. Driving hard to try and recover more ground, when the driver-change window opened he stayed on track and moved into third as others pitted. Handing the car over to Balthasar with just over 20 minutes left on the clock, the German ended the race eighth.
Next up for Morris will be a trip Stateside for a return to action in the 24H Series, with Leipert, for the final race of the category's season. The 24H Sebring will take place on Friday, 19th November, and Saturday, 20th November, at the world-famous Sebring International Raceway in Florida.
Lamborghini Super Trofeo World Finals – Standings:
8th Seb Morris/Sebastian Balthasar, 8pts