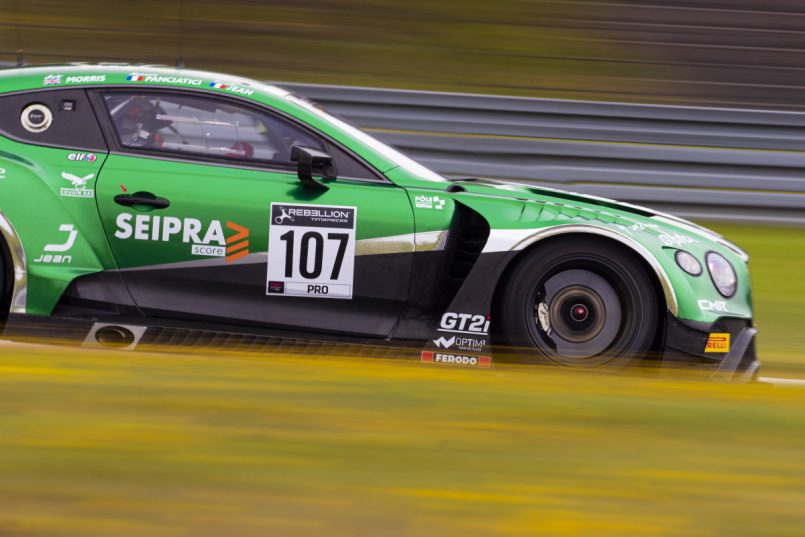 07 Sep

Strong top 15 result for Bentley racer Morris in action-packed Nurburgring six-hour
Bentley Pro Seb Morris 'very happy' with P15 in Nurburgring 6hr
Star showing in latest GT World Challenge Europe Endurance outing
Morris, Pierre-Alexandre Jean & Nelson Panciatici work well in Rd2
Seb Morris enjoyed a strong return to action in the GT World Challenge Europe Endurance Cup at the Nurburgring in Germany over the weekend, 5th/6th September, with a competitive top 15 finish for Bentley customer team CMR in the six-hour second round of the season.
Underlining a significant step forward for the French squad since the opening race of the campaign at Imola back in July, 24-year-old Bentley 'Pro' Morris teamed with Bentley Motorsport Academy racer Pierre-Alexandre Jean and Nelson Panciatici to deliver a season's best performance.
Had there been a little more good fortune along the way, a points-scoring top 10 result from the immense 47 car entry was undoubtedly on the cards for the No.107 Bentley Continental GT3. Even with a puncture at the start of Morris' double-stint in hour five, and an enforced spin for Panciatici after contact from a rival, the outcome was still a very satisfactory one.
"It really has been a good weekend", said British Racing Drivers' Club Superstar Morris, "It's been a massive step forward for the team from Imola, my relationship with CMR has built-up fantastically and Pierre, Nelson and I worked so well together. The car wasn't where I wanted it at the start of the weekend, I made five or six suggestions which we applied at once and they worked as we wanted.
"When Pierre came into the pits in practice he had his thumbs up out of the window so we knew it was a big improvement. As the Pro driver you can't put yourself first, I sacrificed my track time to make sure Pierre and Nelson were happy with the car and work more on gains for them."
Morris continued: "Pierre made a brilliant start to the race, did a great job in his stint, and Nelson was going well but he got hit at one point which cost around 20 seconds. When I went out at the start of my double-stint I got a puncture three laps in, so that lost us a minute. Taking all of that into account, we had the pace to finish in the top 10. Overall, I'm very happy with the weekend."
In final qualifying on Saturday, 5th September, Morris was on course for a top five time in the third session until he was blocked and ended up with a lap of 1m54.975 seconds. Taking the combined average with Panciatici's best of 1m55.895 seconds from session one and Jean's best of 1m54.813 seconds in session two, the No.107 Bentley qualified 16th fastest.
Jean started the six-hour race on Sunday and he and Panciatici both performed very well during their double-stints. Morris climbed behind the wheel with around two hours and 15 minutes left on the clock and on lap 112 he ran in 15th position.
Moving up a place before a Full Course Yellow period, only three laps into his stint the Welshman then had to pit with a puncture. Losing significant time and dropping to 19th place, Morris worked his way back up the order with excellent pace.
Pitting for the last time with just over 50 minutes to go, Morris threaded back into the action in 18th spot and immediately set the line-up's best lap with a time of 1m57.057 seconds. He then bettered that to a lap of 1m57.015 seconds and gained another couple of places as he closed on the top 15.
Eating into a 20 second gap to the Lamborghini of Phil Keen, Morris went by with just a handful of laps left to take 15th position. Although passed by Davide Rigon's Ferrari late on, which had the benefit of brand new tyres, Morris reclaimed 15th following a puncture for Andrea Caldarelli's Lamborghini.
Round three of the GT World Challenge Europe Endurance Cup is the huge Total 24 Hours of Spa at the legendary Spa-Francorchamps in Belgium. Taking place over the weekend 24th/25th October, this year's event will actually be run over 25 hours with the event coinciding with the end of Central European Summer Time – which means clocks move back an hour mid-race!
Before then, the official two-day Total 24 Hours of Spa test will be held on Tuesday, 29th September, and Wednesday, 30th September.