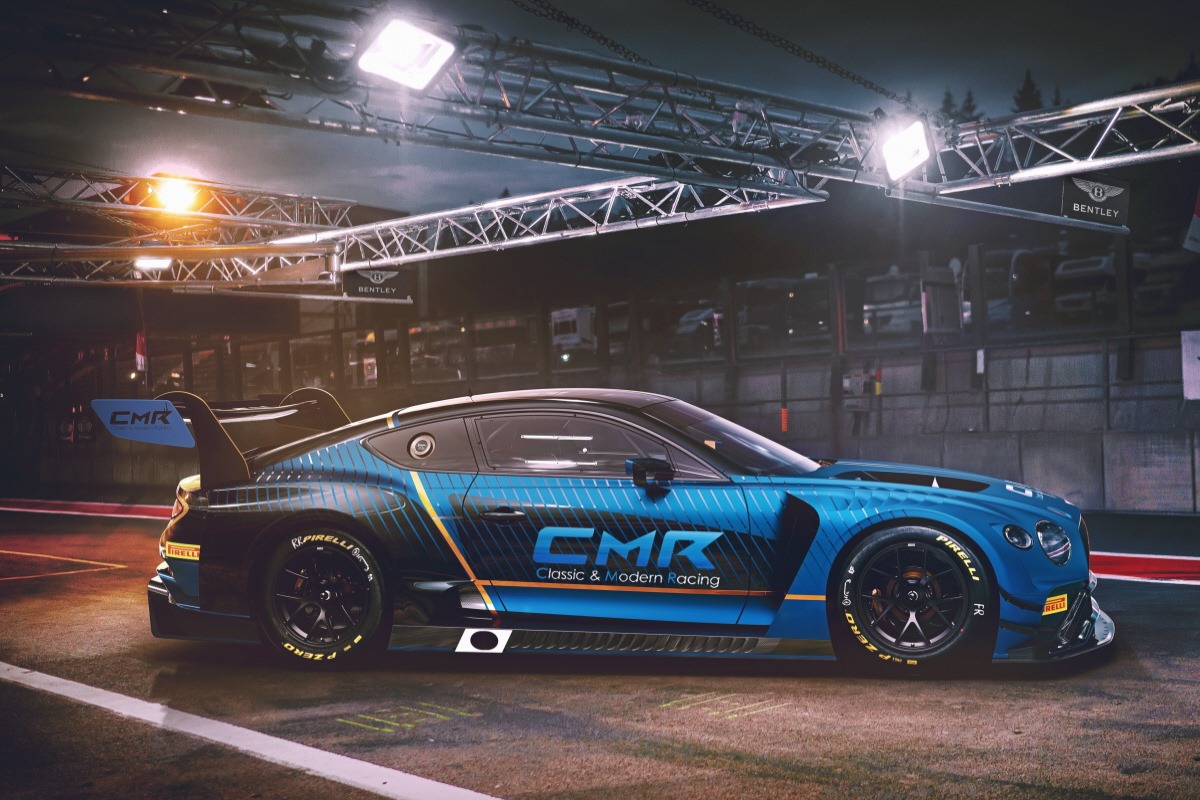 21 Jul

Morris Imola-bound with CMR for opening race of GT World Challenge Europe Season
Motor racing year re-starts for Bentley 'Pro' Seb Morris at Imola
First race of GT World Challenge Europe Endurance this weekend
Morris heads No.107 Bentley Continental line-up at French team CMR
Welshman partners Pierre Alexandre Jean & Razvan Petru Umbrarescu
Almost six months since his last race in a Bentley Continental GT3, Seb Morris will finally get back to competitive action at Imola in Italy this coming weekend, 25th/26th July, when the opening round of the GT World Challenge Europe Endurance Cup takes place.Chester-based Morris, who will be the 'Pro' driver in the No.107 CMR entered Bentley Continental GT3 alongside French team-mate Pierre Alexandre Jean and Romania's Razvan Petru Umbrarescu, cannot wait to be back in real-world race action after the enforced global COVID-19 lockdown.
Having spent the last four months on the sidelines due to the impact of the coronavirus pandemic, just like the rest of the motorsport world, the 24-year-old British Racing Drivers' Club Superstar is relishing being back at work as a Bentley professional and competing with CMR for the first time.
"I'm really looking forward to it", said Morris, "There are no expectations, there's no pressure on us, we're just going to turn up at Imola and see how we get on. The team has done a good amount of testing, but I've not been able to be there due to the COVID-19 restrictions so I will have some work to do. The customer programme for Bentley is the major priority for the brand, it's very important.
"I don't know, at this stage, the route the team has taken with its preparations, the direction they've been taking with the car, but I know how to make a Bentley go quick – that's why I've got the job – so I can't wait to get to work. My two team-mates at CMR, Pierre and Razvan, are young drivers who it's going to be great to work with. Hopefully we'll make some good progress."
Morris' first full year as a factory driver with Crewe-based manufacturer Bentley got off to a great start in February when he teamed with fellow Britons Oliver Jarvis and Alex Buncombe to mount a podium challenge for the works M-Sport squad at Bathurst in Australia. Only a late-race puncture prevented a dream result for Morris on his maiden outing at the Mount Panorama Circuit.
Since then, as a result of the global impact of COVID-19, he has only been on track once with a test outing at Oulton Park in Cheshire. Drafted in by Bentley to assist Team Parker Racing, the outfit with which Morris won the 2017 British GT Championship title, he wasted no time in setting the pace.
Round one of the GT World Challenge Europe Endurance Cup season at Imola will be a three-hour encounter which, with an expected grid of 46 cars, is set to be as spectacular and hard-fought as ever with the cream of GT3 teams and drivers doing battle.
While Morris does have experience of racing at Imola, he hasn't been there since 2014 when he was climbing the single-seater ranks in Formula Renault. In fact, the last time he was at the Italian track, in the Formula Renault 2.0 Alps Series six years ago, he beat one of the Scuderia Ferrari FIA Formula One World Championship team's current drivers…
"The last time I was at Imola it went pretty well and I seem to remember I beat Charles Leclerc, so it'll be good to be back there after so long", recollects Morris, "It's a great track and while I will need to learn it in the Bentley, I'm sure we'll be up to speed in no time. It really is fantastic to be back racing, the weekend can't come around soon enough."
Free practice at Imola will get underway at 09.00 (local time) this coming Saturday, 25th July, ahead of pre-qualifying at 13.10. Final qualifying, which will be streamed live online, will commence at around 17.30.
On Sunday, 26th July, round one of the GT World Challenge Europe Endurance Cup will get underway at 13.30 (12.30 UK time) and will be available to view live HERE
CLICK HERE FOR FULL EVENT TIMETABLE