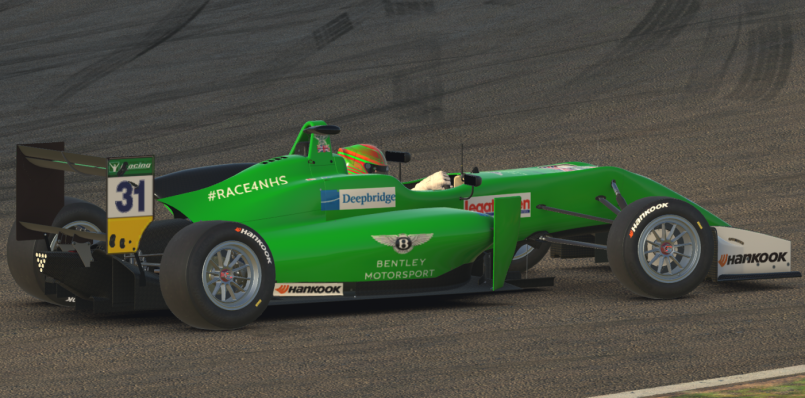 21 May

Top four for Bentley's Morris in all star series at Virtual Zandvoort

•    Seb Morris stars for Bentley in latest round of The Race All-Star Series
•    Welshman just misses podium in second race at virtual Zandvoort
•    Busy few days of sim action include new BRDC series & SRO series

Bentley Motorsport's Seb Morris had his busiest weekend yet of lockdown sim racing action with participation in no fewer than three championships over the last few days – the highlight being a superb top four finish at a virtual Zandvoort in The Race All-Stars Series powered by ROKIT Phones.

Taking place on Saturday, 16th May, the Welshman bounced back from a luckless opening race, where he finished in 20th position, to secure a best-yet top four result for Bentley in the second contest just mere tenths of a second shy of a maiden sim racing podium.

Before then, on Thursday, 14th May, Morris debuted in the brand new BRDC Esport Championship with iZone. Exclusively featuring members of the British Racing Drivers' Club, and established by BRDC Superstars Director Andy Meyrick who is also Morris' manager in real world racing, the opening race at a virtual Silverstone produced a tremendous showing from Morris.

Slicing his way through from 22nd on the grid into the top seven, although edged back to eighth with five minutes to go a strong result was still on the cards. On lap 13 of 15, though, he was tipped into a spin by a rival at Luffield and ultimately ended the outing in 12th position. Notably, the BRDC Esport Championship has been set-up to raise funds for NHS Charities Together.

Sunday, 17th May, the 24-year-old was back at his simulator for the latest round of the SRO E-Sport GT Series at a virtual Nurburgring. Racing his simulated Bentley Continental GT3, the third event of the series unfortunately ended up being the most luckless yet for Morris.

Starting the one-hour race in 17th position, he made a good start initially but was then caught-up during a tangle through the first couple of turns. Dropping all the way down outside the top 30 as a result, he began to charge back through the order impressively.

With just 12 minutes of action completed, Morris had already moved back up to the cusp of the top 20 but he was then served with a drive-through penalty which effectively ended his race there and then, with no realistic way back.

"It's been a really busy few days of sim racing and although some of the results weren't as I'd hoped, it's been a lot of fun again", said the former British GT Champion, "Obviously, the highlight was the top four in the All-Stars – a great result for me and Bentley and very close to a first podium.

"I'm obviously proud to be involved in the new BRDC Esport Championship, and it's fantastic to be helping to raise funds again for the amazing staff of the NHS by doing so. Again, we had a good race but some contact near the end dropped me out of the top 10 which was a real shame."

Morris added: "Sunday's sim race in the SRO series was very frustrating for us. Qualifying was tough again, but I was coming through the order really quickly and a good finish in the points was definitely possible. Sadly, it wasn't to be, but everyone at Bentley is determined to hit back in the next race.

"As well as keeping me motivated and focused during the lockdown, the sim racing has provided a fantastic opportunity to represent my personal sponsors Poole Homes, Legat Owen and Deepbridge in the virtual world too. I'm very proud to be able to do that and compete with their support."

Morris' sim racing exploits continue today, Thursday, 21st May, at a virtual Monza in Italy for the second round of the BRDC Esport Championship – the action will be streamed at 19.00 UK time at www.autosport.com www.motorsport.com and also www.motorsport.tv

Next Saturday, 23rd May, The Race All-Star Series will continue at 17.00 UK time and will be streamed, as always, on YouTube. Round four of the SRO E-Sport GT Series, meanwhile, will take place on Sunday, 31st May, at a virtual Barcelona.