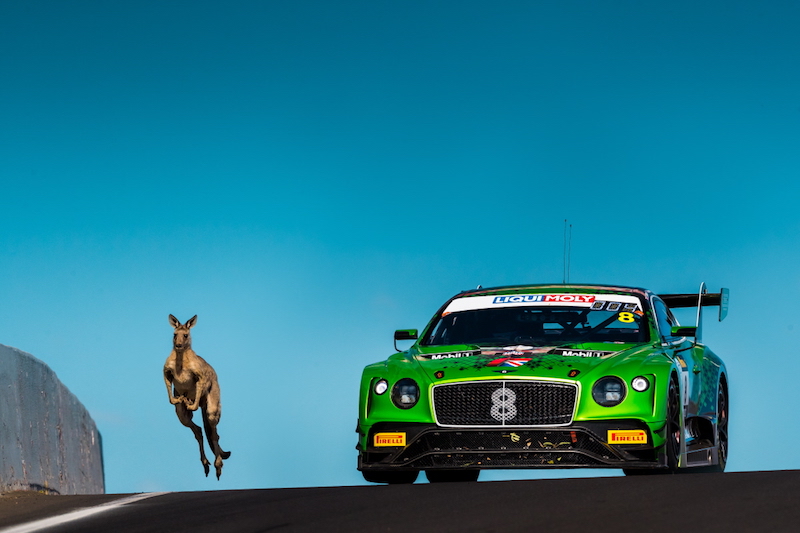 02 Feb

Late race puncture costs Morris potential podium on sensational Bathhurst debut with Bentley

•    Seb Morris and No.8 Bentley crew cruelly denied Bathurst podium
•    Puncture ends realistic dream of silverware in first race of season
•    Morris, Alex Buncombe and Oliver Jarvis star at Mount Panorama
•    Trio congratulate sister No.7 entry on magnificent win in Australia 

Bentley Continental GT3 racer Seb Morris almost achieved a dream podium result on his debut in the Intercontinental GT Challenge at Bathurst in Australia, today, Sunday, 2nd February, but a costly puncture for the No.8 car late in the race cruelly ended those hopes.

Chester driver Morris and team-mates Alex Buncombe and Oliver Jarvis impressed hugely during their first race together, the Liqui-Moly Bathurst 12 Hours, with incredible pace around the Mount Panorama Circuit, tremendous team-work and immense tenacity.

Following a luckless brake issue in final practice when Jarvis was at the wheel, quick-thinking from the Briton meant he avoided sustaining more damage to the car than might have been the case with lightning reactions to prevent a head-on collision with the perimeter wall.

Even so, remarkable work from the M-Sport squad was still required day and night in searing heat to try and ensure the Bentley would be ready to take the start of the race at 05.45 Australian time on Sunday and the team did just that.

Having to line-up at the back of the 32-car grid as a result of missing qualifying, the start under pitch black skies went well and through their various stints the trio stormed through to climb into the top six before the race-ending puncture halted a genuine podium challenge with three hours to go.

During Morris' three stints behind the wheel of the Bentley he couldn't have performed better, delivering outstanding pace – a match for the competition – and racing wheel-to-wheel with the world's premier professional international GT3 drivers.

While retirement wasn't part of the plan, of course, the competitiveness and high standard shown by 24-year-old Morris, Buncombe and Jarvis means the team-mates take huge confidence into the remainder of the Intercontinental GT Challenge campaign.

"I did three really strong stints and everyone was very happy with my performance – that's a great feeling and especially at one of the hardest tracks in the world", said Welshman Morris, "The team would have been happy if I was around a second a lap off my more experienced team-mates, but in the first test I was only four tenths off and on my first lap in the race I was on the pace straight away.

"I did absolutely everything I could do this weekend and I think I can walk away from Bathurst feeling very happy with my overall performance and what we achieved here. Olly, and Alex did an absolutely amazing job and they're incredible team-mates to work with. I have to say, Olly managed the brake issue in practice unbelievably well – the damage could have been so much worse."

Morris added: "It's a case of could've, should've, would've, but we really were on for third or maybe even second in the race. I think we shocked a lot of people this weekend, we had no testing before arriving at Bathurst, Olly's never driven the Bentley before either, so overall I think we can all be unbelievably proud of the job we've done and the fantastic job of the boys in the garage too."

While retirement for the No.8 car was a major disappointment, there was plenty to cheer in the Bentley camp with the sister No.7 car of Jules Gounon, Maxime Soulet and Jordan Pepper taking the chequered flag in first place to achieve the manufacturer's maiden victory at legendary Bathurst.

"The win for Bentley is a massive moral boost and I want to say a huge congrats to Jules, Jordan and Max, they're three of my best friends and did a fantastic job", said Morris, "There's no remorse on my side for how our race turned out, I'm just delighted for those guys and for Bentley too in taking such an incredible result. I was physically crying for them when we watched the podium, an amazing result!"

British Racing Drivers' Club 'Superstar' and Motorsport UK 'Team UK' driver Morris now turns his attention to his duties in the GT World Challenge Europe Endurance Cup season with French team CMR, which will begin over the weekend 18th/19th April at Monza in Italy. Before then, official pre-season testing will take place at Paul Ricard in France on 12th/13th March.

In terms of the Intercontinental GT Challenge, there is now a lengthy break from action ahead of race two of the five round campaign, the Total 24 Hours of Spa at Spa-Francorchamps in Belgium, which will be contested at the end of July.