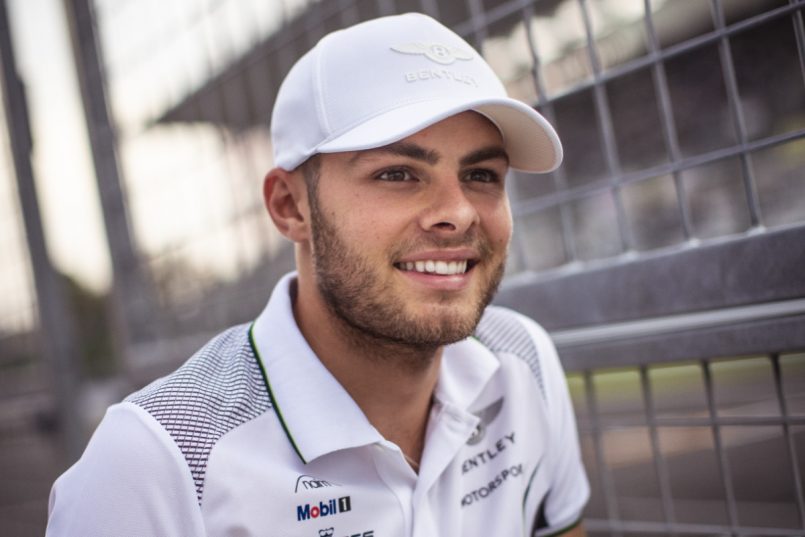 09 Jan

Welsh Motorsport Star Seb Morris announced as official 'Bentley Boy' for full 2020 International Season
Chester driver Seb Morris signed as full Bentley 'works' team driver
Proven Welsh racer becomes fully-fledged 'Bentley Boy' for new season
Impressive 2019 performances rewarded with dream factory drive
Morris to contest global Intercontinental GT Challenge for Bentley
Bentley also set to utilise Morris in growing customer race programme
High-profile Welsh motor racing star Seb Morris has this morning, Thursday, 9th January, realised his dream of becoming a fully-fledged 'Bentley Boy' after the renowned British manufacturer confirmed the 24-year-old in its official factory line-up for the full 2020 season.
Marking by far the biggest moment in his professional sports career to date, Chester-based Morris will race with Bentley's full 'works' team in the worldwide Intercontinental GT Challenge and will also support the brand's rapidly growing network of customer racing teams around the globe.
Set to pilot the No.8 Bentley Continental GT3 prepared by M-Sport in the Intercontinental GT Challenge, Morris is understandably elated with the career-changing opportunity and cannot wait for the 2020 season to begin.
"This is such amazing news, I can't thank everyone at Bentley enough for putting their faith in me to become one of the 'Bentley Boys' for 2020", said the ecstatic British Racing Drivers' Club 'Superstar' and Motorsport UK 'Team UK' driver, "We've worked so, so hard to get to this point, which truly is a dream come true, and I am unbelievably proud to represent Bentley as a factory driver this year.
"Now, it's time to work even harder to make the absolute most of this incredible opportunity and to repay all of those who have supported me. I cannot wait to get to work with Bentley and the guys at M-Sport ahead of the new season, we established a fantastic relationship last year and I'm confident we can build on that and enjoy a successful and rewarding season on the world stage."
Morris seeking 'best ever' season in 2020 with Bentley
Morris' promotion to become a full-time factory driver with Bentley follows a stellar 2019 where he made two appearances with the works squad. First, he impressed at the Total 24 Hours of Spa in July where he starred in qualifying as the fourth fastest of the 16 Bentley 'Pro' drivers participating.
He earned a second opportunity to compete with the factory team during the Suzuka 10 Hours in Japan a month later, his first ever visit to the legendary Far East track, and Morris again delivered an excellent account of himself.
Affiliated with Bentley since 2016 when he debuted in GT endurance racing after establishing a successful single-seater career, Morris won the coveted British GT title in 2017 during his sophomore year with Bentley customer squad Team Parker Racing.
Graduating into the Blancpain Endurance Cup with Team Parker in 2018, he immediately confirmed his prowess by finishing second in the Pro-Am class on his maiden outing in the championship at Monza in Italy – having qualified a stunning fourth quickest overall on his debut. He was second again with an outstanding performance in the Paul Ricard six-hour race in France.
Also in 2018 Morris boosted his wider public profile, and also brought an alternative spotlight onto the world of motorsport, by appearing as part of the reality television show Celebs Go Dating on Freeview, digital satellite and cable channel E4 in the UK.
"The last few years have been fantastic, from winning the British GT title in 2017 through to becoming a front-running challenger in Blancpain", said Morris, "Driving for the Bentley factory team at Spa and Suzuka last year were true highlights, I learnt a huge amount and I really feel I'm the best prepared for any season I ever have been.
"I'm looking forward to racing at Bathurst, Indianapolis and Kyalami for the first time – three of the absolute best tracks in the world – and I'm definitely aiming for my best ever year. Of course, it'll be great being back in what was Blancpain Endurance as well with a new team and new challenge."
Round one of the Intercontinental GT Challenge will take place at the legendary Bathurst circuit in Australia, over the weekend 1st/2nd February. Morris will be appearing at this week's Autosport International Show at the Birmingham NEC today, Thursday, 9th January, and will also be on the main Autosport Stage at 10.00 on the first of the public days, Saturday, 11th January.

2020 Intercontinental GT Challenge Calendar
Rd1 – Liqui-Moly Bathurst 12 Hour, Australia – 31st January/1st/2nd February
Rd2 – Total 24 Hours of Spa, Belgium – 23rd/24th/25th/26th July
Rd3 – Suzuka 10 Hours, Japan – 21st/22nd/23rd August
Rd4 – Indianapolis 8 Hour, USA – 2nd/3rd/4th October
Rd5 – Kyalami 9 Hour, South Africa – 19th/20th/21st November