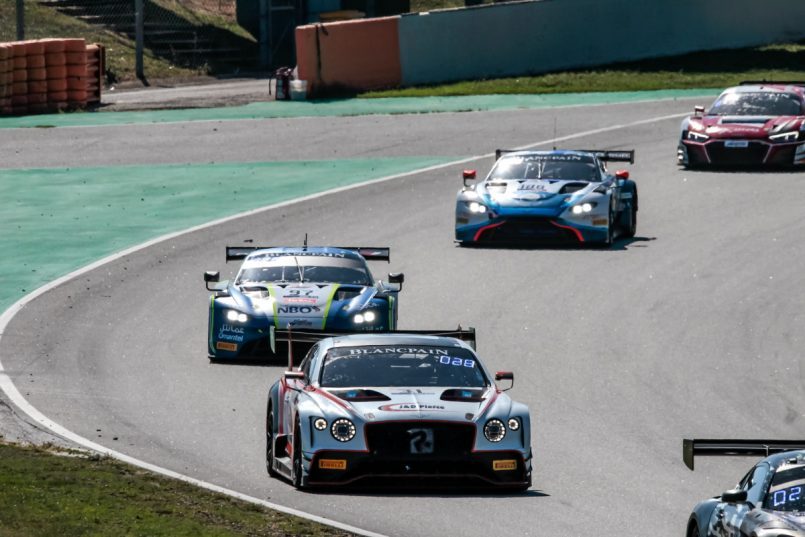 01 Oct

Excellent Performance from Morris helps Team Parker end Blancpain season with a top four pro-am Finish in Spain
Rapid Blancpain driver Seb Morris impresses again in 2019 finale
Welshman stars in Spain with sensational qualifying and race pace
Morris and team-mate Derek Pierce just miss Pro-Am podium
Bentley driver Morris waiting to see what comes next for 2020
Bentley Continental GT3 racer Seb Morris produced an expectedly strong and competitive showing on his return to Blancpain Endurance Cup action with Team Parker Racing at the Circuit de Barcelona over the weekend, 28th/29th September, to just miss out on a deserved Pro-Am podium.
Finishing the three-hour championship finale fourth in class, and just outside the overall top 20, Chester-based Welshman Morris and team-mate Derek Pierce put together an impressive race to bring a positive end to an otherwise largely frustrating and luckless campaign.
In terms of pace, 23-year-old Morris was as rapid as ever in the No.31 Bentley Continental GT3 and was the third fastest of the eight Bentley drivers in qualifying. Scorching to the fastest Pro-Am time in his session, in the race he managed to rise into the class lead before Pierce finished fourth.
"I was happy with my stint in the race and also my pace but because we only had me and Derek this weekend, and no third driver, I had to do the middle stint and so couldn't do a super-fast stint at the end against the other Pros", explained Morris, "The problem in my run was being hampered by the Safety Cars as it limited the time I had to make progress like I wanted to.
"I still managed to overtake a lot of cars, capitalising on other drivers' weaknesses and putting in some good racecraft, which was great and a lot of fun. We came in for the final stop in the class lead but due to the Safety Cars we weren't able to build enough of a gap time-wise and so when Derek got back in the Pros hunted him down."
Morris added: "Fourth is still a good result though, I'm happy for Team Parker and thank the guys for all the hard work they've put in this year. All of the effort hasn't been rewarded as it should have been, but it's always good to end the season with a strong and positive performance."
In the Bronze Test session on Friday, 27th September, Pierce lapped seventh fastest in Pro-Am before Morris put the No.31 Bentley Continental GT3 fifth quickest in class in free practice on Saturday and then into the top four of Pro-Am during pre-qualifying.
In final qualifying on Sunday morning, BRDC Superstar and Motorsport UK 'Team UK' driver Morris produced the quickest Pro-Am time with a superb lap of 1m45.673 seconds and when Pierce's laps from the previous two sessions were combined the pairing would start the race from fourth in class.
Scottish racer Pierce took the opening stint of round five and he made a superb start, climbing into second in Pro-Am on the opening lap and leaping from 34th overall to 28th place before the Safety Car was deployed. Coming onto track as a result of a major accident involving one of the Porsches, the race remained under caution for around 50 minutes due to a range of barrier repairs.
When the action resumed, Pierce continued around three seconds behind the class leading Mercedes and he then pitted for the first driver change stop to hand the Bentley over to Morris early in hour two.
Immediately lighting up the timing screens, the Welsh racer looked to make big gains from fifth in Pro-Am and 34th position overall but his quest wasn't straightforward with a number of slower 'Am' drivers on track to negotiate – rather than the Pros he would normally compete wheel-to-wheel with in the final stint of an endurance race.
Added to that, Full Course Yellow periods and more Safety Cars also limited the time Morris had to make progress before handing the car back to Pierce for hour three but he overcame the obstacles superbly well. After taking fourth in Pro-Am, Morris quickly closed on eventual class champion Ahmad Al Harthy and passed the Omani driver for third on lap 42.
Just moments later, Morris grabbed second in Pro-Am from the Ferrari of Jonathan Hui and he then had eight overall positions to try and make up to get on terms with the class leading Mercedes. Able to move up into the class lead and eighth overall just before the end of his stint, Morris pitted under Full Course Yellow conditions early in the third hour.
With Pierce pitched against a whole host of Pro drivers during the final run, the 'Am' did the very best he could to cling on to a Pro-Am podium but ultimately had to settle for a nonetheless strong fourth place, 19th position overall.
Final 2019 Blancpain Endurance Cup 'Pro-Am' Standings
12th Seb Morris/Derek Pierce, 28pts