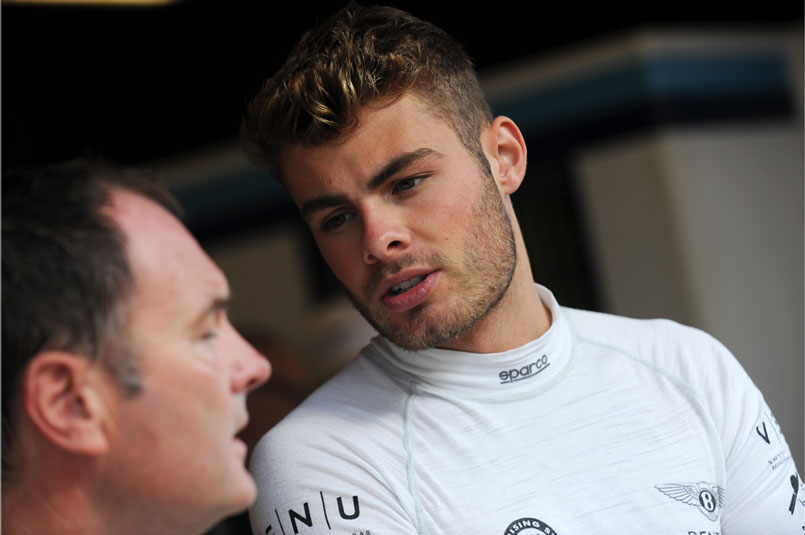 12 Mar

Multiple Motor Racing Champion Morris adds Blancpain Endurance return to British GT Programme
Welsh racer Seb Morris confirms new Blancpain Endurance Cup bid
Reality TV star returns to world's biggest GT3 series with

Team

Parker

Morris to team-up again with Derek Pierce in new Bentley Continental
Scottish businessman drafts in Morris as true 'Pro' with J&D Pierce backing
Seb Morris is delighted to this morning, Tuesday, 12th March, officially confirm a championship challenging campaign in the Blancpain Endurance Cup after signing with Team Parker Racing to continue as team-mate to Scottish businessman Derek Pierce.
Little more than a week removed from the headline-grabbing news of 23-year-old Morris' deal to race in British GT this year, the Chester driver also now adds a Pro-Am title bid in Blancpain at the wheel of a brand new Bentley Continental GT3 with Leicestershire's Team Parker.
After a sensational debut season in the pan-European championship last year, where he achieved two Pro-Am class podiums as team-mate to Pierce, the BRDC Superstar and Motorsport UK 'Team UK' driver is elated to be continuing the partnership.
Equally, of course, Morris and Team Parker have a very successful history together with the Stuart Parker-led squad having been the team with which Morris won the 2017 British GT title with Rick Parfitt Jnr.
Morris is recruited as the 'Pro' driver for Blancpain this year alongside Pierce thanks to the backing of the Scotsman's business, J&D Pierce (Contracts) Ltd. Additionally, he will enjoy the continued support of long-time personal sponsors Liberty Properties and Legat Owen.
"I'm mega excited to be back in Blancpain for a second season with Team Parker, it's great to be back and especially with the new Bentley Continental as well", said Morris, "It's obviously fantastic to be working with Derek again, the deal has all been possible thanks to his support and that of J&D Pierce (Contracts) Ltd so I'm looking to repay that faith in me with some big results.
"We did a good job last year in our first season in Blancpain, we had a couple of podiums and missed out on a couple of wins to be honest. We can learn from last year, put that experience into practice and hopefully mount a very strong challenge with the new car. It's more developed, better on fuel and, generally, an all-round better package so confidence is definitely high."
Morris will compete with Team Parker and Pierce in four of the five Blancpain Endurance events this year – for the blue riband twice-round-the-clock Total 24 Hours of Spa in July he will be drafted into one of the factory MSport Bentley Continentals as an official 'works' driver.
Announced at the end of February, the Welshman will partner Callum MacLeod and Rodrigo Baptista as a 'Pro' entry in the Spa-Francorchamps classic in one of a quartet of works entries from Bentley in the marque's 100th anniversary year.
Morris' first outing of the year with Team Parker, meanwhile, comes tomorrow, Wednesday, 13th March, at Paul Ricard in France where the Blancpain competitors are embarking on a two-day official pre-season test. The first race of the season will take place on Sunday, 14th April, at Monza in Italy.
Blancpain Endurance Cup Calendar
31 May/1 June – Paul Ricard, France
25-28 July – Total 24 Hours of Spa, Belgium